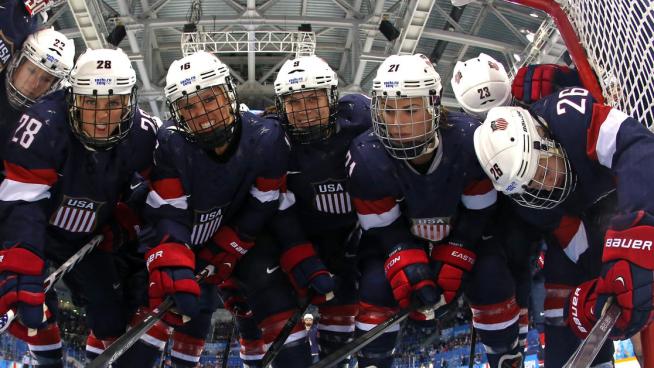 Photo: Bruce Bennett/Getty Images
Yesterday as the United States convincingly defeated Sweden 6-1 in the semifinal round of the Women's Ice Hockey tournament, a rather large debate began on the internet about what the future holds for the sport.
During the 2010 Olympics, then IOC President Jacques Rogge said that Women's Hockey needs to be more competitive if it wants to survive in the Olympics. Well, I'm not sure what some of these
morons
have been watching, but the 2014 Women's tournament has been much more competitive.
Since basically everyone else has written about this, I'm just going to give you a bunch of links to the pieces that came out on the subject. These are some fantastic and they should be read completely.
If you are looking for my two cents, here they are: We have seen great improvement from the Women's game in the past four years. True, the US and Canada have fairly dominated, but they have not dominated like they did in 2010. The world is slowly catching up, and at this point it would be a great mistake to toss Women's Hockey from the Olympics. Hell, two days ago I watched a Russia-Japan game that was more competitive than one would have ever imagined. The game is still growing. Its not even 20 years old yet (Women's Olympic Hockey started in 1998).
On to the links:
SportsNet: Women's Hockey 'never' leaving. IIHF President Rene Fasel says Women's Hockey is not leaving the Olympics.
Hockey Wilderness: Is Women's Hockey Non-Competitive? A comparison to the domination of men's and women's hockey.
NBC Chicago: Would Women's Hockey League Create More Parity in Sport? James examines the possibility of creating a WNHL and makes some great points for doing so.
USA Today: Women's hockey safe but 'we have more to do'. A look at the growth from the 2010 games to the 2014 games.
Washington Post: U.S., Canada owe no apologies for dominating Olympic women's hockey. An interesting point of view here.