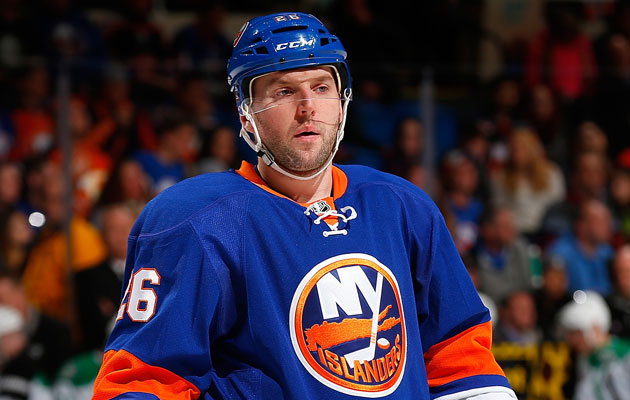 As expected, Thomas Vanek's stay on Long Island was brief. Photo: Getty Images
Earlier in the year, Thomas Vanek was moved from Buffalo to the New York Islanders in the hopes of providing a spark to the struggling team.
In the months that followed the trade, Vanek was just about as useless to providing a spark for the Islanders as anyone trying to light a match in 20 MPH winds. It just didn't work.
Vanek was dealt to the Montreal Canadiens (along with a conditional fifth round pick in 2014's draft) just prior to the 2 PM trade deadline in exchange for a prospect and a conditional second round pick in the 2014 draft. It marks the third different uniform Vanek will wear this season, and it certainly looks like it won't be the last one in the next few months he will wear.
Later on after the trade, Vanek
talked
to TSN on their trade deadline special and told them he isn't sure on whether or not if he would be open to signing an extension there.
Two things about that last sentence: 1. Vanek has yet to leave the Islanders, and you are already talking about him signing an extension in Montreal. Of course he is going to say he isn't sure. 2. Montreal is not Minnesota. So he was being "Minnesota Nice" when he said he isnt sure but in actuality he knows he will not be returning to Montreal.
Vanek has been on a point per game pace since going to the Islanders (44 points in 47 games). But, it will be hard to keep those numbers going considering he was playing on the best line he has ever played on.
Couple quotes from Thomas Vanek just before he departed: "That line, with Okie and Johnny, it was the best line I ever played on." #Isles
— Arthur Staple (@StapeNewsday) March 5, 2014
Vanek will be wearing the jersey number 20 in Montreal, due to Josh Georges already wearing number 26. No word yet on whether or not Vanek will try and buy the number 26 from Georges. Heck, he could give Josh an IOU considering he is about to cash in this summer.
Vanek Watch is an ongoing series on the Team of 18,001 for the 2013-14 season.
Follow Giles on Twitter for more Vanek nonsense
@gilesferrell