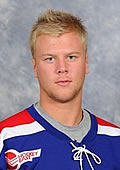 Christian Folin
Defenseman
Shoots: Right
Height: 6'3". Weight: 215 lbs
Born: February 9, 1991
2013-14 Team: UMass-Lowell (Hockey East), Minnesota Wild (NHL)
Acquired: Signed a two year contract on March 31, 2014
Previous Rank: NR
At the end of March, the Wild signed highly sought after college defenseman Christian Folin (pronounced Foe-lin) to a two year contract. The Wild edged out the likes of Philadelphia and Boston to land the UMass-Lowell defenseman. However after signing Folin, he only played in just one game for Minnesota to finish out the season.
Before signing with the Wild, Folin registered back to back 20 point seasons with the River Hawks while helping them to a Hockey East tournament championship in 2014 and two consecutive NCAA Tournament appearances (including a Frozen Four berth in 2013). His offensive production did go down a bit in his final season with UMass-Lowell but that was largely in part to his increased defensive responsibility he took on.
The Wild got an extremely talented two-way defenseman when they signed Folin. He can bring it at both ends of the ice, and is a very smart player for a kid coming right out of college. He also is known to use his big frame in the physical department for those of you concerned about his level of "grit".
If he does not make the NHL roster out of the preseason, Folin will start the season in Iowa and will almost certainly be the first call-up for the team should they need to bring up a defenseman. If he does indeed play in Iowa, he should be a lock for their top defensive pairing and will help provide offense to a team that was severely lacking it in 2013-14.
Team of 18,001's 2014-15 Top 10 Prospect List
1. Friday
2. Thursday
3. Wednesday
4. Tuesday
5. Monday
6. Tomorrow
7. Christian Folin