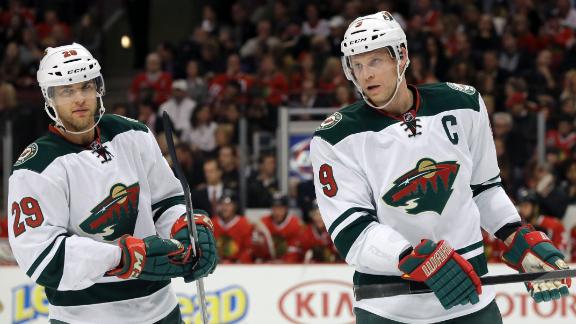 Photo: Nam Y. Huh/AP
Tonight, in what one hopes to be a playoff atmosphere at Xcel Energy Center (its the regular season so I have doubts about fans actually being anywhere close to playoff mode), the Wild take on those same Blackhawks after defeating them 5-3 two nights ago in Chicago.
So as the teams come into tonight's matchup, the Wild are riding a three game winning streak and the Hawks are riding a two game losing streak (yeah, hard to believe Chicago is human after all). Not something that frequently happens anymore.
For those keeping track at home, the Blackhawks have not lost three consecutive games since February 23rd, 25th, and 26th when they lose to Dallas, Los Angeles, and Anaheim respectively. That's a run of 77 straight games without a losing streak of three or more games (pretty much the equivalent of an full season).
The Wild do have experience with sweeping home and homes against Chicago. They last did that on April 1st and 5th in 2012. Obviously, the teams are different, but still nice to know that the Wild have accomplished this feat in recent memory.
The Blackhawks are
changing
it up a bit for tonight, so one should expect something that resembles the Stanley Cup Champs tonight, not the struggling team they have been lately.
If the Wild can play a determined 60 minutes of hockey, they can do something that has been rare to see and hand a third straight loss to Chicago.
Much easier said than done, though...
Follow Giles on Twitter
@gilesferrell