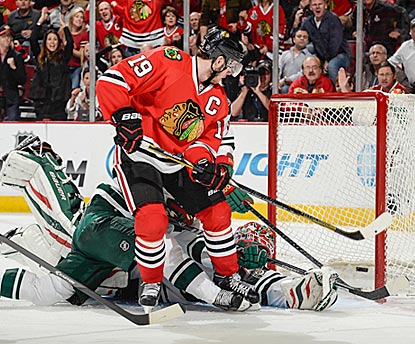 Photo: Getty Images
Through one period last night, the Wild were in a very favorable position.
With the series tied 2-2, Minnesota found themselves up 2-0 on the defending Cup champs after the first period. They had been providing ample pressure offensively, and they were giving the Blackhawks fits in the neutral and defensive zone. It looked like the night was shaping up to be favorable in favor of the road team.
But then the Wild came out in the second period and got pummeled by the Blackhawks. Chicago outshot the Wild 15-6 in the middle frame, and got a tip in power play goal (off an arguable penalty on Jonas Brodin) from Bryan Bickell to send the game tied going into the third.
In the third, the Wild came out with a bit more jump, but still got caught napping on one shift, and that allowed Jonathan Toews to give the Blackhawks the lead for good. The Wild were still able to provide pressure throughout the remainder of the third period, but were stopped by the outstanding effort goaltender Corey Crawford.
After the game, Nino Niederreiter offered this thought on the Game Five loss:
Nino: we lost our focus for 10 minutes and it cost us the game
— Michael Russo (@Russostrib) May 12, 2014
Mike Yeo also offered up similar
thoughts
in his postgame presser.
At the end of the day, it comes down to this: The Wild are not skilled enough to take 10 minutes off in any contest against Chicago. They are not skilled enough to take
one shift
off against Chicago. They have to play a full 60 minutes if they want to beat the Blackhawks (see Game Three and Four in this series for examples). A fact that needs to be drilled into this team's head.
When Chicago can afford to put guys like Patrick Sharp and Marian Hossa on their third line, that should show you how good this team is. Minnesota's third line, right now, consists of Erik Haula, Justin Fontaine, and Matt Cooke. Good players, but not anywhere close to the level of Chicago's. So what can these three do to stop the likes of Sharp, Hossa, etc.? Keep your focus and do not stop working.
Minnesota finds themselves with their backs against the wall again this postseason. To their credit, they have played well when it has mattered most (this goes for all year too), but at some point they will dig themselves a hole that they can not climb out of. How many times have they recovered from these "lack of focus" efforts? Too many, would be the correct answer. The deeper they go into the postseason, the more painful one loss with a "lack of focus" label on it becomes. If they don't stop, it will be the label that seals this team's fate.
Now for the Wild, their focus must solely be on Game Six. They can not afford to take for granted their record/play at home this postseason. Because when Chicago
smells
blood, they have a good knack for playing great hockey.
Should Minnesota get caught looking ahead, it is guaranteed to not end well for the home team tomorrow night. That is a fact you can take to the bank.
Follow Giles on Twitter
@gilesferrell