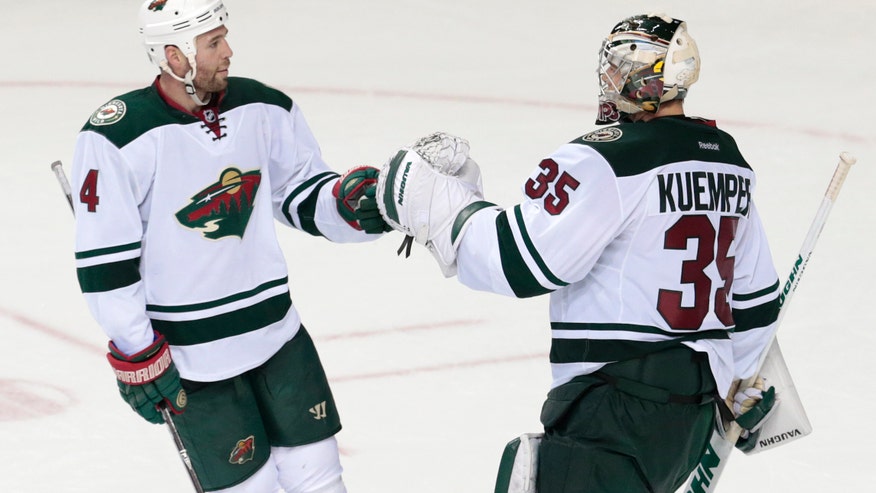 Darcy Kuemper is back as the Wild's number one goaltender. Photo: Mark Humphrey/AP
Once again, the fate of the 2013-14 Minnesota Wild season, is now on the shoulders of 23 year old goaltender Darcy Kuemper.
After relieving Ilya Bryzgalov in the second period last night, Kuemper made 14 saves (including a few flashy saves), to keep the Wild remotely close in a game where they needed to win. Kuemper's performance all but guaranteed that he will be between the pipes for game three tomorrow night.
Back in early January, Kuemper was thrust into the Wild net after both Josh Harding and Niklas Backstrom were lost to injuries. He also inherited the Wild net when they were on a horrid losing streak that had Mike Yeo's job security come into high scrutiny. Kuemper responded with a 6-2-1 record in 10 outings, with a 2.15 GAA and .932 save percentage.
The Wild went on to hold the top Wild Card spot that they were sitting in at the end of January thanks in large part to Kuemper's continued efforts in the following months. He was eventually replaced by the veteran Bryzgalov down the stretch, but his play went
unnoticed
to get the Wild this far. And now, they are trusting in him again.
If the Wild want a prayer of getting back in this series, they will need Kuemper to be stellar once again (they also need the defense to, you know, play defense). It is a lot to ask of a 23 year old goaltender, but the team is out of options. They are putting all their (easter) eggs in one basket here.
To be fair, Bryzgalov did not play horribly in the postseason. He was just on the bad end of some horrible defense. A goalie change just might be needed to swing the momentum in this series (for further study on goalie changes mid series, see Minnesota Wild in '03 quarterfinals and '03 semifinals).
Once again, Darcy Kuemper has been put on the spot. Will he respond like he did in January? Or will he show his age and contribute to a quick first round exit for the Wild?
Follow Giles on Twitter
@gilesferrell