Photo: Brace Hemmelgarn/USA Today
For the second consecutive year, the Minnesota Wild are headed to the Stanley Cup Playoffs.
With the Columbus Blue Jackets edging the Phoenix Coyotes 4-3 in overtime, and the Wild's dramatic 4-3 come from behind shootout victory over Boston tonight, the Wild clinched a playoff and the top Wild Card spot in the West.
Last year, the team ended a four year playoff drought when the snuck into the playoffs on the final day of the regular season with a 3-1 win over Colorado. The Wild went on to be dismissed from the postseason in five games by the eventual Stanley Cup Champion Chicago Blackhawks.
The Wild's first round opponent is still up in the air, but there are few nominees in that department. They are: St Louis, Anaheim, San Jose, and Colorado. The first two teams mentioned are the more likely opponents for the Wild in round one, with the latter two having slimmer chances of drawing Minnesota.
It is not likely that we will know the first round matchups until the season ends Sunday. That also means playoff dates and times will not be unveiled until the matchups are set in stone.
Tickets for rounds one and two are already on sale at
wild.com/2014playoffs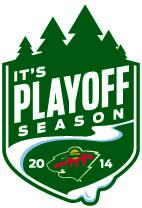 Follow Giles on Twitter
@gilesferrell