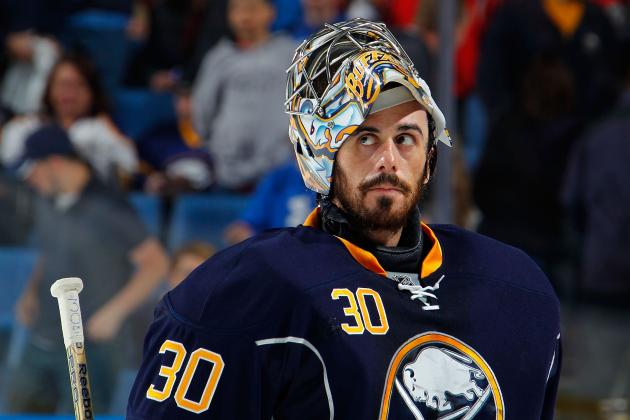 How much longer will Ryan Miller be in Buffalo? Photo: Bill Wippert/Getty Images
With just five games left for the Wild before they break for the Olympics, the question will start to get asked if they will make a move before the break. It has been speculated that there could be more activity on the trade front leading up to the Olympic break, than there will actually be in the days leading up to the March 5 deadline.
Yesterday, Bruce Garrioch of the Ottawa Sun
wrote
that it appears that the Buffalo Sabres will be trading star goalie Ryan Miller, which could come within the next two weeks before players depart for Sochi. Miller, 33, is in the final year of his contract which has a cap hit of $6.25 million.
Here is an excerpt from the post:
One possible landing spot is the Minnesota Wild and there may be interest there from general manager Chuck Fletcher. Goaltender Josh Harding is sidelined indefinitely because of complications with his MS and the Wild are in a race for the playoffs.
If the asking price is reasonable, they might be willing pay what it takes to get Miller if he wants to go there. They would probably want the chance to negotiate with him, though, because the asking price will likely be a player, prospect and pick. While [Tim] Murray may still try to sign Miller a trade seems more likely.
If Buffalo is only looking for one pick in return for Miller, its pretty much a guarantee that the pick will have to be a first rounder. So the price for Miller would be an NHL player, a prospect, and a first round pick. All of this for a player who could be just a rental if he does not sign a contract extension should he be moved.
Buffalo is one of the rare teams in the league with ample cap room ($6.84M). They project to have cap room at the deadline around $34 million. The Wild meanwhile, have just a bit over $1M in cap space and project to have $5.09 million of cap space at the deadline. So if they were to go after Miller, they would have to clear out over a million dollars in cap space to take on his salary.
So far this season, Miller does not have a great GAA (2.62), but that is more on the team in front of him. He is having one of this best seasons in terms of save percentage (.926-second best percentage in his career), due to the extremely high volume of shots he has faced this year. His even strength save percentage on the year (.924) is only good enough for
17th
best in the league, but still better than noted goalies Mike Smith, Craig Anderson, Marc-Andre Fleury, and Niklas Backstrom.
The question here is, if you do go and get Miller, how long are you willing to keep him around given his age. He obviously has not showed signs of slowing down, but keep in mind that Wild goaltender Niklas Backstrom is 36 and has had three consecutive seasons where he has missed time due to injury.
Does Minnesota really want to go after Miller at this time?
It remains to be seen when we will see Josh Harding again this season. Backstrom has been taking cortisone shots for a lower body injury and has returned to backing up Darcy Kuemper, who has been phenomenal since getting getting called up at the beginning of the month. It would be understandable if they went after Miller if Backstrom was shut down for a significant period of time due to his lower body injury, but that is not the case. Backstrom will probably try and wait until the season ends before getting this injury treated.
Going after Miller would require serious returns from Minnesota. As mentioned above, Buffalo would probably be looking for a NHL player, higher tier prospect, and a first round pick. So should the Wild try and deal for Miller, who will they send back to Buffalo?
Will they try and dump Dany Heatley on them for the remainder of the year and give them a better prospect to compensate for that? Do they give them a third line veteran center like Kyle Brodziak who is under contract for one more year to go with the prospect and pick?
It would be a fair bet, that the prospect going back to Buffalo in a potential deal would be Jason Zucker, who has been up and down with the Wild in the last year and a half with the team. Zucker has had issues staying out of Mike Yeo's doghouse this year, so if Yeo were to stay past this year the team might be more willing to part with Zucker and give him a fresh start (for other examples of a coach and good prospect not getting along, see John Tortorella and Chris Kreider last year).
If Chuck Fletcher and company do not feel that Darcy Kuemper can do the job for the team down the stretch, then maybe the team should indeed take a run at Miller. The two regular Wild goaltenders just can not be relied on at this point, giving the team a clear need for a number one goaltender. If not Kuemper, then go get Miller. He is a goalie playing outstanding hockey and would love to get back on a contending team again.
The Wild are one of the few teams who could pull off a trade for Ryan Miller. They have the cap space, and players Buffalo would want in return. Its now on them to decide whether or not they want to go get him.
And it could all happen here in the next two weeks.
Follow Giles on Twitter
@gilesferrell