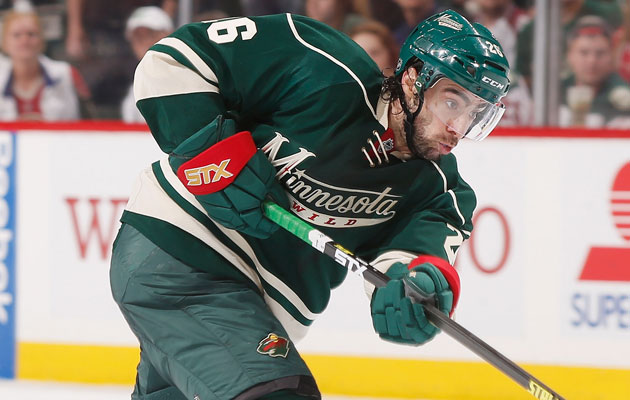 Photo: Getty Images
The Wild made another splash this year at the trade deadline when they brought in winger Matt Moulson from Buffalo.
Stats
New York Islanders (NHL): 11 GP, 6 G, 3 A, 9 P, 6 PIM, 28 SOG
Buffalo (NHL): 44 GP, 11 G, 18 A, 29 P, 20 PIM, 105 SOG
Minnesota (NHL): Regular Season-20 GP, 6 G, 7 A, 13 P, 8 PIM, 43 SOG
Playoffs-10 GP, 1 G, 2 A, 3 P, 4 PIM, 21 SOG
Review
Much like the guy he was originally traded for (Thomas Vanek), Moulson donned three different uniforms this season. His season began on Long Island, his home for the past four seasons and three of those years, he scored at least 30 goals. There were indications that Moulson would have loved to have signed a contract extension with the Islanders, but his trade to Buffalo probably ended that thought. Playing for the lackluster Sabres, Moulson put up 29 points in his 44 games there before being sent to Minnesota, along with Cody McCormick, at the trade deadline. Moulson made his presence felt in the Minnesota lineup immediately, as he jumped on the second line and top power play, and produced 13 points in the team's final 20 games. His postseason was far from impressive, and as we eventually found out was due to a lower body injury that caused him to miss the final three postseason games.
Highlights
Status for 2014-15
Moulson is an Unrestricted Free Agent on July 1st. His previous contract had a cap hit of $3,133,333 per year, and he will be looking to increase that number this summer given his history of 30 goal seasons. Whether the Wild will choose to bring him back remains to be seen. When healthy, Moulson was a nice fit here on the Wild, given his knack for hanging around the net scoring the dirty goals. He was really missed in the Chicago series, as Minnesota could have used his net front presence given their inability to get the puck past Corey Crawford. Moulson, 30, will more than likely want a deal in the range of four years and a salary in the range of a four and a half to five million dollar cap hit.
Follow Giles on Twitter
@gilesferrell