Photo: Robert Stanton/USA Today
Today in the latest chapter of Garth Snow's book "How to destroy an organization", Pierre LeBrun dropped this piece of info on what the Islanders are planning on doing with impending free agent defenseman Dan Boyle:

Isles GM Garth Snow says he's now shopping Dan Boyle's rights, having been unable to sign the pending UFA defenseman...
— Pierre LeBrun (@Real_ESPNLeBrun) June 18, 2014
Now, had Boyle played a second with the Islanders, that would be an ok move. But the fact Snow
acquired
Boyle just two weeks ago for a fifth round pick, just adds to the ever growing list of moves he has made that make you say, "How does this guy still have a job". But that is another rant for a different day.
With Boyle's rights now out on the trade market, Snow may find himself desperate to get a draft pick back in return (for other examples of Snow's desperation, see: Vanek, Thomas). With the Wild holding four picks in the final two rounds of the draft, we pose the question: Should Minnesota swing a deal for Boyle's rights and see if he wants to sign here?
On the surface, Boyle comes off as a solid offensive defenseman. This past year for San Jose (at the age of 37), Boyle scored 12 goals and 24 assists in 75 games. Had he played for the Wild last year, the goals would have been first and assists would have been second among all Wild defenseman. The Wild also have a pair of defenseman headed for free agency (Clayton Stoner and Nate Prosser) and they do have a roster spot or two open. So that means the Wild should try and acquire him right? Not so fast.
Digging in the "advanced stats" part of the stat sheet, we find a bit of a different story with Boyle.
While his Corsi For (
53.0%
) and Fenwick For (
53.4%
) were positive and would be up at the top of the defenseman
leaderboard
on Minnesota, they were both second to last among Sharks defenseman. The Sharks were a
great
possession team this year, and Boyle was one of the worst on the team when it came to that area.
It is also of note here that while Boyle did well in terms of points, it was more because he was matched up
against
the opposition's worst players.
In the chart below we find Boyle is getting more favorable zone starts (meaning he is not often starting in the defensive zone) while playing against the lesser skilled players on the opposition.
Photo: Extra Skater
Take that, and the fact Boyle posted some of the lowest possession numbers on the team and well...that is not favorable for him.
Over at Bleacher Report today, Rob Vollman
showed
some similar player usage charts for all 30 teams (click on the link for an explanation of how the charts work). His chart showing how the
Sharks
players did this year, produce the same results for Boyle.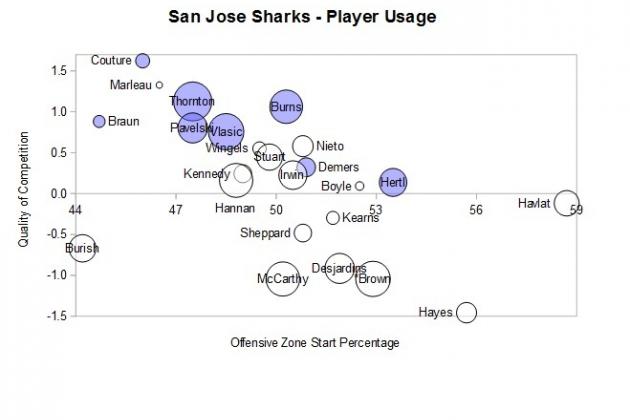 Photo: Rob Vollman/Hockey Abstract
Vollman made the following remark about Boyle in his post, "Veteran Dan Boyle may have been the best defenseman in franchise history, but he is trending down fast and it may be for the best that he moved on."
Boyle made $6,666,667 last season for San Jose. Given his points production, he will probably try and get a contract worth at least $5 million annually over two to three years. If that is the case, the Wild are better off staying away from Dan Boyle. He would not be worth that amount of money over that time span.
Should he be willing to take a one year deal for a similar price, it might be worth the gamble. But over a multi-year deal, Boyle does indeed appear to be trending in the wrong direction.
Looking back to the original question: Should Minnesota Trade For Dan Boyle? No. They are better off steering clear of him. He would not be worth giving up a late round draft pick (a spot Minnesota has had some good luck with in recent years), and the eventual contract he will demand.
Someone will overpay for Dan Boyle. Just hope that team does not turn out to be the Minnesota Wild.
Follow Giles on Twitter
@gilesferrell