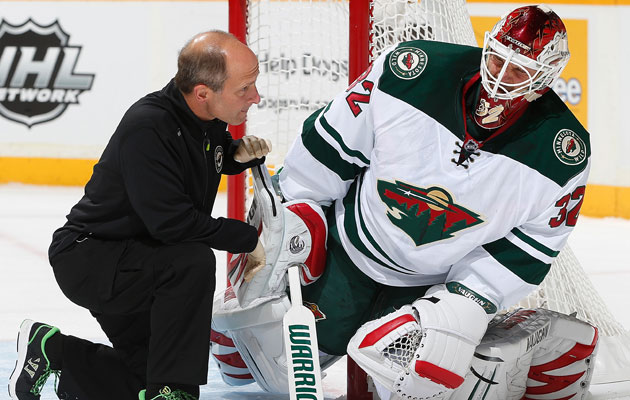 A summary of Backstrom's season in one photo. Photo: USATSI
Hey remember Niklas Backstrom, the franchise's leader in most goaltender categories? Lets look back at his shortened season.
Stats
Minnesota (NHL): 21 GP, 5-11-2, 3.02 GAA, .899 Save Percentage
Review
After playing in 42 of 48 games last year, Backstrom earned himself a new three year contract from the Wild. Going into the year, he was the clear number one goaltender. It took just three games into the new season for Backstrom to get hurt, and he missed the next two weeks. By the time Backstrom returned, Josh Harding was too hot to be taken out of the net. Between October 29 and November 22, Backstrom played just once (a relief appearance after a rough start by Harding). By the end of December, he was back as the regular starter after Harding had to leave the team. His performances were not great, but not all of it can be blamed solely on him (the team was struggling horribly at the time too). After four starts in January, Backstrom gave way to Darcy Kuemper, and after a January 30th appearance against Colorado, Backs was never seen again. An abdominal injury kept Backstrom out of the net for the remainder of the year.
Highlights
Status for 2014-15
As noted earlier, Backstrom signed a new three year contract last summer. So he now has two years left on his contract with a $3,416,667 cap hit each year. His deal also includes a no trade clause/no movement clause (per
capgeek
). Since he is coming off surgery to repair the abdominal issue, there is no chance whatsoever Backstrom is moved this summer. He is expected to be healthy for the start of training camp, and could be back as the number one goaltender once the season opens.