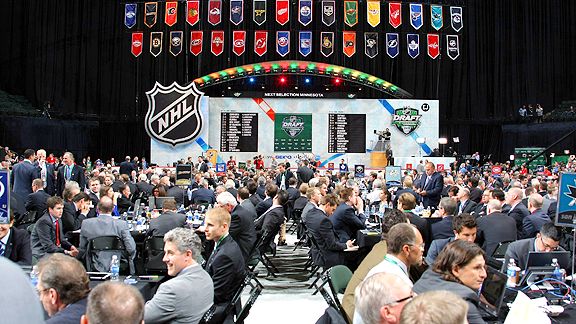 Photo: Getty Images
A big reason for draft day being one of the most exciting days of the year: the trades.
Every year now, there seemingly is a big trade during the first round that shakes the draft floor. And starting with Minnesota in 2011, that big trade has been coming from the host city (2011-MIN trades Burns to SJ, 2012-PIT trades J. Staal to CAR, 2013-NJ acquires Schnieder from VAN). So no pressure on Philadelphia to keep that trend going (sarcasm)!
In Wild history, they have made 14 draft day trades. Seven of those trades, have come since 2009 when Chuck Fletcher took over as GM.
Some highlights of trades on draft day include:
Of those seven trades Chuck Fletcher has made, two of them have been to move up to get a player (2010-Jason Zucker, 2011-Mario Lucia). His other moves include the Burns and Niederreiter trades, his acquisition of Kyle Brodziak and a sixth round pick (which ended up being Darcy Kuemper) in 2009, moving down in the first round in 2009 (traded 12th overall pick to NYI for the 18th-Nick Leddy, 77th-Matt Hackett, and 177th pick-Haula), and his acquisition of the Rangers sixth round pick in the 2014 draft in exchange for Justin Falk in 2013.
Headed into the draft this year, Minnesota sits currently with eight picks. They do not have a second round pick and have three sixth round picks. While it does not seem likely they will make a big splash at this year's draft, you certainly can not rule out the possibility of them moving up or down in a certain round (Its still unlikely given that the draft pool is not the greatest this year).
With Kyle Brodziak reportedly on the trade market and Minnesota entertaining the idea of moving back in the first round to get more picks, it appears they will be active players on the draft floor once again this year.
Lets hope Fletcher pulls the right strings again.
Follow Giles on Twitter
@gilesferrell